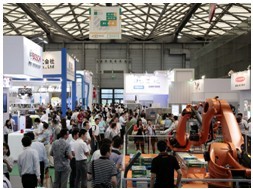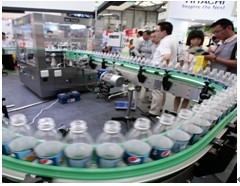 Doors closed Friday, 15th July, on the 17th edition of ProPak and the 4th edition of China BevTek, China's largest trade fairs for processing, packaging and liquid technology. Reports of significant sales made and orders received by the 603 participating companies who met 15,944 trade visitors over 3 days, filtered through to the organiser from the very first day of the show. By the end of the exhibition, companies and country pavilions from Germany; Japan; Korea; UK; USA and Taiwan Region were rushing to re-book space, with many increasing their stand size for ProPak and China BevTek 2012, in Shanghai from 18-20 July 2012.
Top international and Chinese brands reinforced the value of participating in ProPak and China BevTek :
"ProPak is the door to the China market for Wolf (Hangzhou). Thorough our participation in this exhibition we have gained more and more market share in this dynamic market"
Peter Speksnijder
Managing Director, WOLF (Hangzhou) Packaging Machining Co. Ltd.
"We met a lot of potential customers building factories in China, providing us with excellent business opportunities for the future".
Jim Strang, Chief Executive Officer, Heat and Control Pty Ltd
"This year we showed our new 36,000 bottle / hour hot filling machine to our customers attending China BevTek. We always save the latest technology to show at this exhibition every year".
Yin Gang, Marketing Manager , Jiangsu Newamstar Packaging Machinery Co. Ltd
Exhibitors at ProPak displayed a range of processing and packaging technology for all industries from food, beverages, dairy, confectionary/snacks, cosmetics, pharmaceuticals, FMCG goods through to packaging for electronics, auto components and industrial product manufacturing generally. While exhibitors at China BevTek, the specialist show for liquid processing and packaging technology, displayed machinery specifically for brewing and beverage manufacturers. "The range of industries that engineers and buyers attending ProPak come from is astounding" said Margaret Zhang, Deputy General Manager for the show organiser China International Exhibitions Ltd. Ms Zhang added, "our initial visitor analysis shows that visitors came from over 65 different industries, many seeking energy efficient and labour saving technology."
"The growth in exhibitors showing automation equipment like robotics illustrates the need of our Chinese customers to automate their processes… many visitors had current and upcoming projects to discuss and are ready to invest in new equipment".
Peter Oussoren
Business Unit Manager Packaging Machines, Bosch Packaging Technology (Hangzhou) Co.Ltd
The relentless growth of the Chinese and Asian economy's fueling more and more demand for packaged products is reflected by the increased numbers of investors, factory managers and engineers attending ProPak and China BevTek 2011. Not just from East China but from all over China and overseas. Of the total 15,944 visitors that attended this year, a record number in the show's 17 year history, 41% came from outside Shanghai, other Chinese cities and from overseas. Providing exhibitors the opportunity, not only to meet buyers from Shanghai and the rapidly expanding product manufacturing cities of East China, also from all China, Asia and worldwide.
Chinese buyers seeking the latest packaging and processing technology attended as individual visitors or in provincial and company delegations. Provincial Chinese delegations came from Beijing, Guangzhou, Heilongjiang, Jiangsu, Liaoning, Shandong, Shenzhen, Shanghai and Zhejiang. While plant engineers, factory managers and senior management from leading China based companies attended from 3M, Coca Cola, White Cat, Pepsico, Shanghai Meilng, Bright Dairy, Dior, L'Oreal, Tsingtao Brewery, Unilever, Johnson and Johnson, Wahaha, Dole China, Heinz Qingdao, Nestle China, Oishi China, Kenebo, Kao Corporation, Wrigley Confectionery, Kraft China, Wyeth; Amyway, Shanghai McCormick Foods, Siemens, Meji Dairies, Pigeon, Shanghai Jahwa United, P&G and more.
A unique feature of ProPak China and this year was no exception, was the number and quality of overseas buyers attending in search of both Chinese and international technology. A total of 2,107 overseas buyers came from over 75 countries from Asia, Middle East, Europe and the Americas. Top international brands visiting the show included F&N Dairies, Thailand; Associated Pack Tech Engineers, India; Tesco HK; Nestle R& D Centre, Singapore; Crown Packaging, USA; Kadyco, Egypt; National Food Products, India; Sytengco, Philippines, Wei Quan, Taiwan Region and many more seeking innovations and solutions for processing and packaging. Ms Renee Lu, Communications Manager for ProPak stated "we had more overseas buyers this year sourcing packaging machines and materials than in previous years. Many of these visitors have taken advantage of the free Business Matching Programme ( BMP) we offer."
"I took advantage of the Buyer Matching Programme at ProPak China 2011 to source suppliers of food packaging and processing machines. On arriving at the exhibition I was provided with a complete appointment schedule of meetings. I met 13 different suppliers and establish business with them. This has been an excellent visit for me and congratulations to the organiser for their efficiency and assistance".
Marcelo Co, Managing Director Marikina Food Corporation, Philippines
Better than any other marketing medium, an exhibition gives buyers the opportunity to see, test and ask technical questions to the machinery manufacturer or their specialist agent. This was clearly demonstrated this year at ProPak and China BevTek 2011 where exhibitors had more machinery on display than ever before. For those that brought machines many reported successful sales:
"Excellent show, by the second day we had sold our machine to a Beijing customer and taken orders for many more"
Zhang Lin, Marketing Manager, Jiangsu Muyan Group Co.Ltd.
"ProPak China is the most professional exhibition in China. We exhibit here because we make sales and do real business with new and existing customers".
Liu Hong, Beijing Omori Changkong Packaging Machinery
"We shipped some very expensive machinery to this exhibition…the level of enquiries and interest in our equipment far exceeded expectations. Response was so good we have already reserved more space for ProPak China 2012".
Alan Yates, Managing Director, Endoline Machinery Ltd, UK.
The 18th ProPak China and the 5th China BevTek exhibitions return to Shanghai from 18-20 July 2012.
For the full 2011 exhibition and visitor report and more information on how you can join the 2012 shows please visit www.propakchina.com.